Car Trailer/Car Hauler
The Car Hauler semi trailer is used for cars transportation. The structure of the car trailer has sealed van style, opened frame style and half opened frame style. Those three trailer styles can be found in our products photos. If you are interested in this car trailer, please notice us the length of trailer or how many sets of cars do you want to transport. Also please notice us the height of the cargo platform, it decide the tyre size.
Advatanges of Supro Trailer.
1.Abundant Experience on Hydraulic modular trailer. We started to produce heavy duty trailer since 1942 year, and we produced the first modular trailer in China. Our modular trailer can combine with Goldhofer THP/SL, Nicolas MDED, Scheuerle, Cometto etc.
2.Advanced technology. Supro Trailer has owned design on modular trailer. The load capacity can reach 50 tons per axle lines. This is much higher than Goldhofer modular trailer.
3.High quality system. Supro trailer can get throught the CE certification of hydrulic trailer. We exported our trailers to Russia, England, France, Germany etc.
4.Professional technician team. Supro egnineers can design some toolings for your modular trailers. Such as spacer, gird bridge, drop deck bed, loading sharing beam, turntable etc.
5.The cost performance of Supro extendable trailer is much higher than Europe companies. Our price is much better, and the quality is good.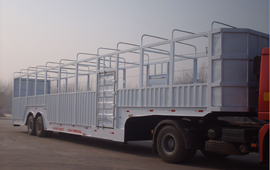 Car trailers for sale/Car hauler trailers
Supro trailer provide full ranges of low bed trailer and dupm trailer to transport all kinds of light weight cargo form 20tons to 200 tons, such as construction machinery, sand, wood, cement, oil and other bulk cargo. We use the authentic trailer parts and high grade steel to manufacture good semi trailers for you, such as York/Fuwa axle, Jost landing legs, Double coin/Triangle tyres, Q450/Q460/Q690/T700 steel material. With our advanced robot welding,Germany 3D Numerical Control/Bending machine, skillful production workers, professional technician teams and fast international sales team, so we are confident to be our good and reliable supplier in China! With the long use time and good working performance of our low bed trailers, we are able to make your tranportation business be more economical and safe! We are your good partner to help you cut more money and energy from trailer maintenance and repair in the future to make you only concentrate on money earn business!