Shipyard transporter

, Self propelled trailer (SPMT)
Supro has stocked shipyard transporters for sale
Multi axle trailer shipyard transporter, is a hydraulic suspension, hydraulic drive, the electronic hydraulic hybrid multi-mode driver steering hosting platform can lift, carrying capacity is generally more than 75t self propelled trailer, self propelled modular trailer (spmt) special vehicles. The series each of the steps in the process of modern shipbuilding and other heavy component job field regional transportation transport equipment, electronic hydraulic independent steering technology, can move forward, after traveling any direction and angle.The development of the standard, heavy-duty flat-panel truck from the design, development, testing, testing, packaging, shipyard transporter can be based on the technical standards. The design parameters and the main function of the serialization and unity, and contribute to the sustainable development of the product.  
Shipyard transporter, Self propelled modular trailer (spmt) 

  
The multi axle trailer shipyard transporter, self propelled trailer (spmt) is an important transport equipment, modern ship construction process can be realized also a variety of modes of driving (steering mode), carrying platform can lift, carrying capacity is generally in more than 75T overloaded transporter special heavy duty trailers. The main parameters in the preparation process to comply with the basic requirements of the special vehicles.
Self propelled trailer (SPMT)
The technical requirements of The multi axle modular, hydraulic platform trailer, shipyard transporter embodies small quantities, multi-species production of customer orders to meet user demand principles.The multi axle hydraulic modular trailer, shipyard transporter, has been successfully broke into the international market, the standard should be prepared in line with international practice.The main content: to require the multi axle hydraulic modular trailer/ shipyard transporter common technical requirements, test methods, inspection rules, signs, packaging, transport and storage.
Why cooperate with Supro Trailer
1. Supro Trailer has over 50 years experience on heavy transporters such as Hydraulic modular trailer, Extendable trailer, Girder bridge, Equipments with modular trailer etc. We are the first factory of hydraulic modular trailer in China.
2. Supro Trailer can produce the modular trailer combine with Goldhofer THP/SL, Nicolas MDED, Nicolas MDE, Comitto, Scheuerle. You can buy Supro modular trailer to combine with your owned trailer.
3. We can provide the most professional transport scheme for you according to your special cargo dimension and weight. The most safety and economy scheme.
4. Supro Trailer has abundant experience on CE certification. We exported heavy transporters to France, Germany, Russian, England etc.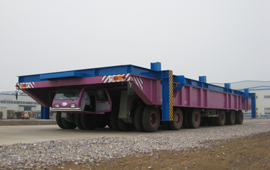 Shipyard Transporter

, Self propelled modular trailer (SPMT)
Shipyard transporter commissioning
Shipyard transporter Specifications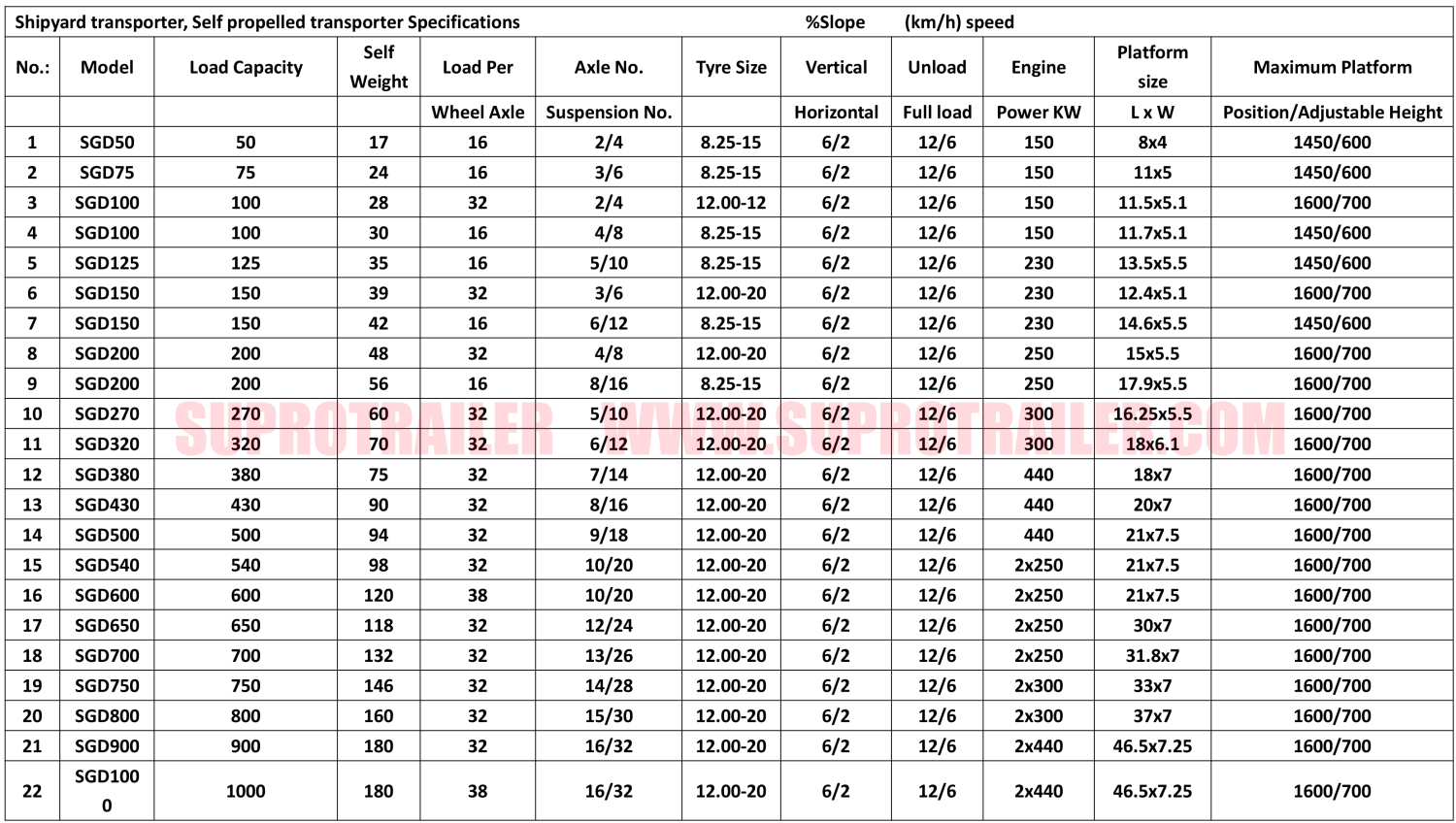 Shipyard transporter Draft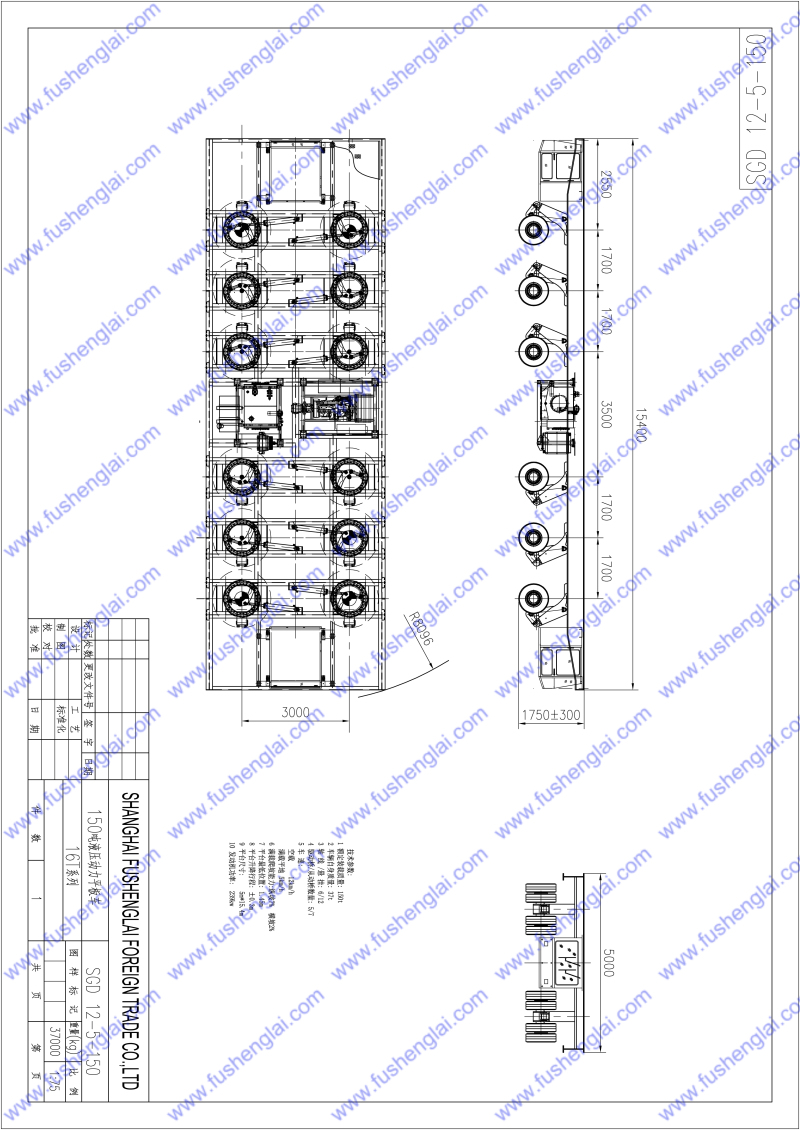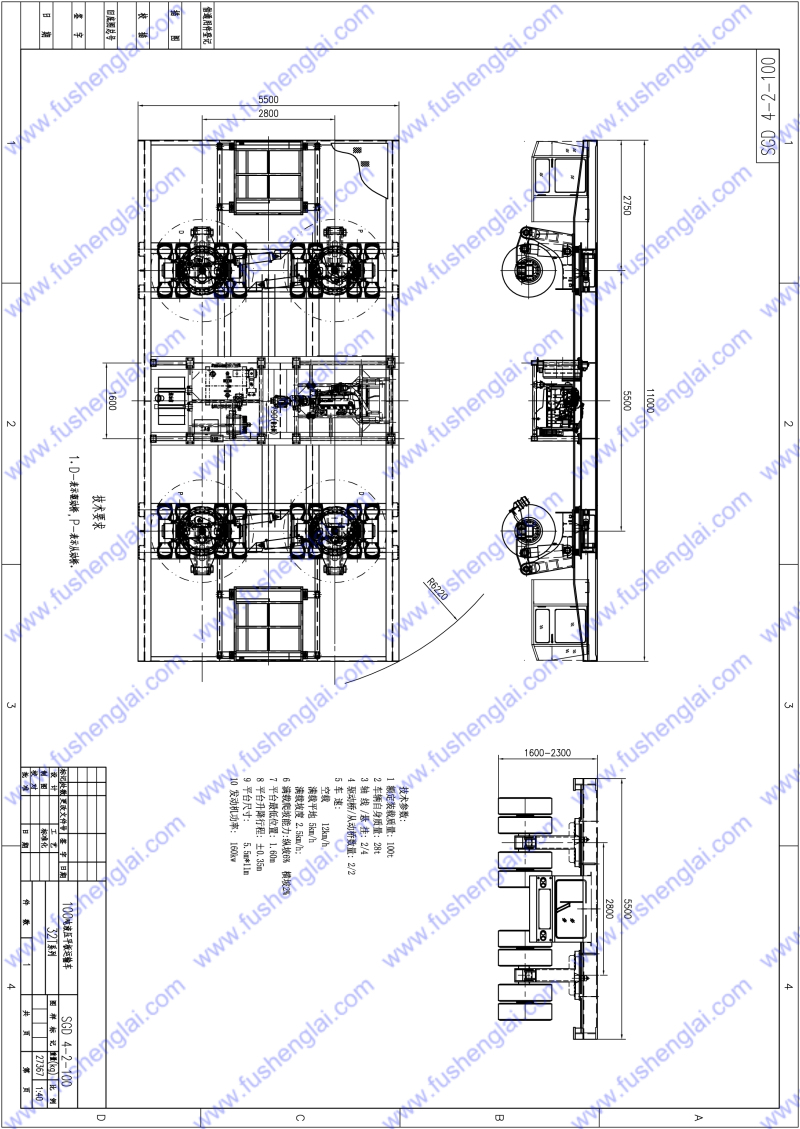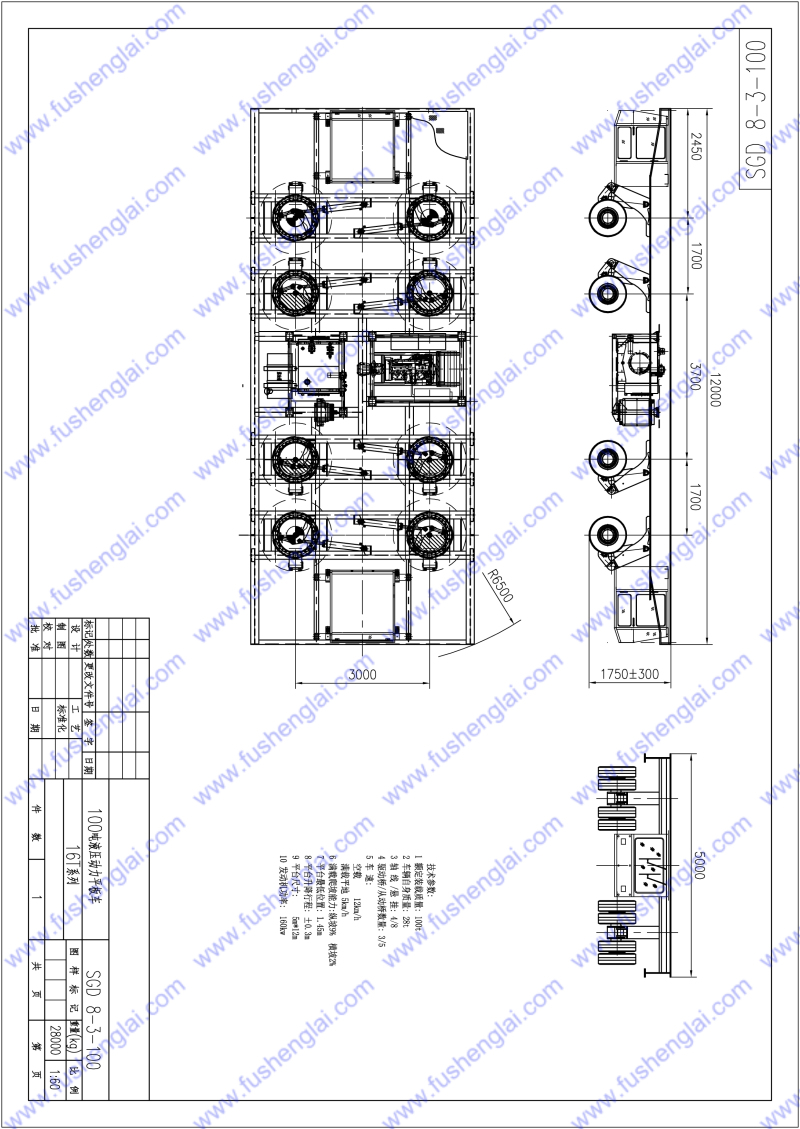 Shipyard Transporter S
GD
12
-
5-15
0
Technical payload at 5 km/h

额定载质量(5公里时速下)

Approx 约. 150,000 kg

Dead weight of shipyard transporter

整备质量

Approx约. 37,000 kg

Gross weight of shipy transporter fully loaded

满负载总质量

Approx约. 187,000 kg

Axle lines

轴线数

6

Wheel bogies per axle line

每轴线悬挂架数量

2

Number of wheel bogies

转向架总数量

12

Wheel bogie load

每悬挂架的承载能力

Approx约. 16,000kg

Driven wheel bogies

驱动悬挂架数量

5

Brake wheel bogies

制动悬挂架数量

7

Tires (pneumatic)

轮胎规格(无内胎)

32x 8.25-15 PR14

Diesel engine DEUTZ

柴油发动机型号 道依茨

Type 6BTA8.3-C215, 功率:每分钟2,200转时为239 kW = 325 HP

Max. traction

最大牵引力

116kN

Gradient ability fully loaded

纵向爬坡能力

7%

Max. speed loaded

满负载时最大行驶速度

Approx约. 5 km/h

Max. speed unloaded

空载时最大行驶速度

Approx约. 12 km/h

Platform height lowered

货台最低高度

Approx约. 1,450 mm

Lifting stroke wheel bogies

悬挂架的升降行程

Approx约. 600 mm

Platform height in driving condition

货台行驶高度

Approx约. 1,750 mm

Axle load compensation

轴负荷的补偿行程

± 300 mm

Oscillation angle of pendulum axles

轮轴的横向地面适应最大角度

7 °

Platform length

货台长度

Approx约. 15,400 mm

Platform width

货台宽度

Approx约. 5,000 mm

Inner turning radius

最小转向半径

0 mm

Outer turning radius

最大转向半径

Approx约.8,096 mm
1. 主要配置 Main Specifications
发动机Engine(道依茨DEUTZ/康明斯Commins)
电控变量(驱动)主泵 Electronic control variable(Drive) main pump(德REXROTH力士乐/丹麦DANFOSS丹佛斯(原萨奥丹佛斯))
变量(转向)泵Variable(Steering) pump(德REXROTH力士乐/丹麦DANFOSS丹佛斯)
驱动油马达 Drive Oil Motor(德REXROTH力士乐 /丹麦DANFOSS丹佛斯)
减速器Reducer(德REXROTH力士乐 /意BREVINI布雷维尼)
分动箱Transfer case(德STIEBEL/德KTR)
散热器Radiator (德AKG/冰轮)
回转支承Slewing bearing(方圆/牛力士Leonessa)
多路比例换向阀Multi- proportional directional valve(德DANFOSS/德REXROTH/德HAWE)
轮胎Tyre(国产 朝阳/三角/双钱 China brand)
微电控制系统Micro electrical control system(德REXROTH力士乐/德KINEMOTION)
Shipyard transporter SGD 4-2-100
Technology Parameter:
1. Rated load capacity:100tons
2. Vehicle dead weight:28tons
3. Axle lines/Suspension: 2/4
4. Drive axle/Dead axle:2/2
5. Speed:
Empty load:12km/h
Full load flat road:5km/h
Full load gradient road:2.5km/h
6. Full load climbing capacity:longitudinal slope-6%, cross slope-2%
7. Minimum cargo platform height: 1.6m
8. Cargo platform lifting distance: ±0.35m
9. Cargo platform dimension: 5.5*11m
10. Engine power: 160km
Shipyard-Transporter SGD 8-3-100
Technical payload at 5 km/h

额定载质量(5公里时速下)

Approx 约. 100,000 kg

Dead weight of shipy transporter

整备质量

Approx约. 28,000 kg

Gross weight of transporter fully loaded

满负载总质量

Approx约. 128,000 kg

Axle lines

轴线数

4

Wheel bogies per axle line

每轴线悬挂架数量

2

Number of wheel bogies

转向架总数量

8

Wheel bogie load

每悬挂架的承载能力

Approx约. 16,000kg

Driven wheel bogies

驱动悬挂架数量

3

Brake wheel bogies

制动悬挂架数量

5

Tires (pneumatic)

轮胎规格(无内胎)

32x 8.25-15 PR14

Diesel engine DEUTZ

柴油发动机型号 道依茨

Type 6BTA8.3-C215, 功率:每分钟2,200转时为160 kW = 215 HP

Max. traction

最大牵引力

116kN

Gradient ability fully loaded

纵向爬坡能力

5%

Max. speed loaded

满负载时最大行驶速度

Approx约. 5 km/h

Max. speed unloaded

空载时最大行驶速度

Approx约. 12 km/h

Platform height lowered

货台最低高度

Approx约. 1,450 mm

Lifting stroke wheel bogies

悬挂架的升降行程

Approx约. 600 mm

Platform height in driving condition

货台行驶高度

Approx约. 1,750 mm

Axle load compensation

轴负荷的补偿行程

± 300 mm

Oscillation angle of pendulum axles

轮轴的横向地面适应最大角度

7 °

Platform length

货台长度

Approx约. 12,000 mm

Platform width

货台宽度

Approx约. 5,000 mm

Inner turning radius

最小转向半径

0 mm

Outer turning radius

最大转向半径

Approx约.6,500 mm