Self Propelled Modular Trailer
Self propelled modular transporter (SPMT) is the typical product integrated with computer, hydraulic and wireless communication technology, with static-hydraulic drive system and electronic control system. Because of the compact structure, it can be combined bolted and soft combined as well. With the combination features, the SPMT transport capacity can reach then thousand tons. With more and more super Weight freights appears in off-shore platform building, shipyard, and urban-construction, the combine-able modular transporter gives a only-way solution to move them.
Scheuerle SPMT model - Supro Trailer
Self propelled trailer / Self propelled modular trailer (SPMT)
Scheuerle SPMT model self propelled trailer Used for the transport of ships, aviation, electric power, chemical industry, mining, railway highway construction, offshore platforms and other areas of the large heavy weight that is not easy to disassemble components.
Scheuerle SPMT ,SPMT model Product performance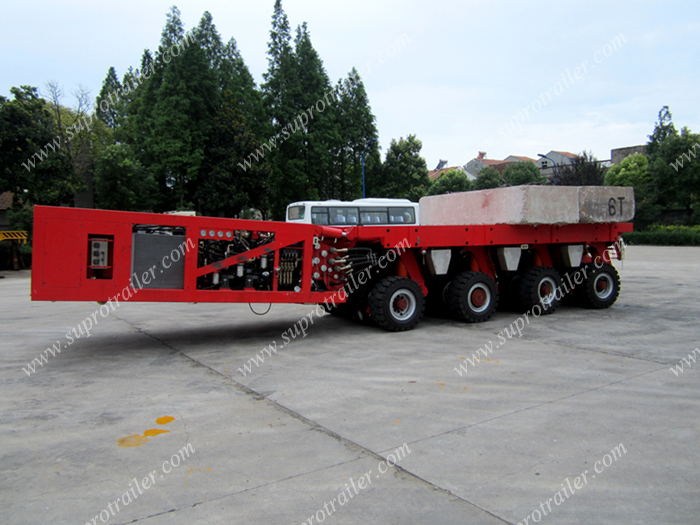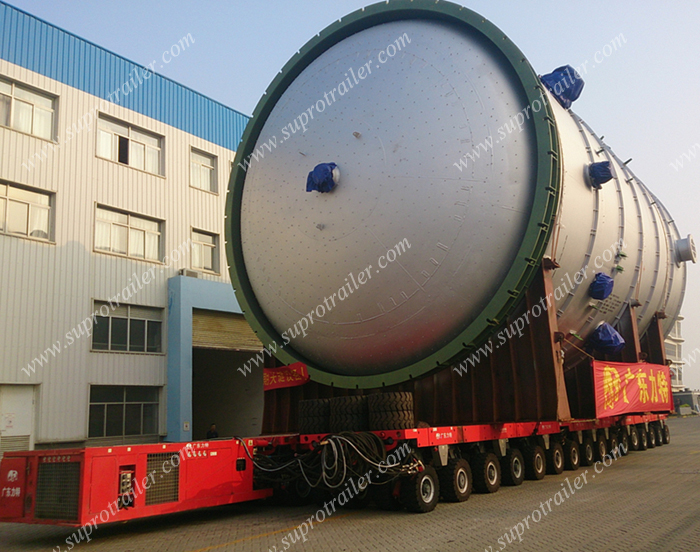 Vehicle design fully consider mechanical characteristics of the large transport vehicles and is integrated with computer technology, microelectronic technology, hydraulic technology, wireless communication technology, and combined with hydraulic drive and control system and realize the intelligent remote control operation. Vehicle with low height hydraulic drive module type of vehicle, axle independent support suspension structure and dual tire 355/65-15 PR24, hydraulic suspension for three or four point bearing, each a suspension rack gear hydraulic cylinder mechanism for rotary.
Scheuerle Self propelled trailer / Self propelled modular trailer (SPMT) feature
Base units of SPMT TRAILER are one of 4 axle or 6 axle module and one unit of power pack unit
Narrow in width and modularized design with 2430mm wide modular.
40T supper axle load, suitable for centralized loading operation(offshore platform etc)
Scheuerle SPMT model synchronizing coupling function: can reach max 600 axle coupling by rigid method or soft control method, max loading capacity can reach 20000T.
Scheuerle SPMT, SPMT Trailer model Multiple steering modes, the steering modes of multiple transporters coupling is the same as single unit.
Advatanges of Supro Trailer.
1.Abundant Experience on Hydraulic modular trailer. We started to produce heavy duty trailer since 1942 year, and we produced the first modular trailer in China. Our modular trailer can combine with Goldhofer THP/SL, Nicolas MDED, Scheuerle, Cometto etc.
2.Advanced technology. Supro Trailer has owned design on modular trailer. The load capacity can reach 50 tons per axle lines. This is much higher than Goldhofer modular trailer.
3.High quality system. Supro trailer can get throught the CE certification of hydrulic trailer. We exported our trailers to Russia, England, France, Germany etc.
4.Professional technician team. Supro egnineers can design some toolings for your modular trailers. Such as spacer, gird bridge, drop deck bed, loading sharing beam, turntable etc.
5.The cost performance of Supro extendable trailer is much higher than Europe companies. Our price is much better, and the quality is good.