Who We Are
Supro Trailer deisigns and manufactures Heavy transporter, and lead the technology of it in the wide world!
❒Supro Trailer established in 1951 year, the company produces heavy and special transporters for China national infrastructure construstion that we belongs to "Power China". So that "Supro Trailer" is a China national manufacturer.
❒Supro Trailer produces Hydraulic modular trailer (HMT) to perallel with Goldhofer, Nicolas and Scheuerle series. More than that, Supro improved the design of the Nicolas HMT to enforce the strength of it.
●Supro Trailer makes the orginal 3 combination files which after the Nicolas HMT to be 4 combination files that enfoce the ability with Drop deck bed and Spacer.
●Supro Trailer uses casting manufacturing technology on Hydraulic suspension to take replace of original welding technology that avoid the breakage problem of it.
●Supro Trailer makes the height of main beam be more bigger to enforce the structure strength of the HMT.
Supro THP/SL combine Goldhofer THP/SL▼

❒Supro SPMT has 4 steering modes, "Pulling rods steering","Pinion and rack steering","Worm and gear steering" and "Hydraulic cylinders pulling steering". The steering system could be linkage or inpendent to be your opition.
Supro talent SPMT with driving cab▼

❒Supro produces the Shipyard transporter, the Width range from 2.5m to 5m. The company produced the Hydraulic suspension can load Max. 32 tons cargo / each suspension. Also, we already manufactured the most advanced driverless mode shipyard transporter for overseas market.
Driverless Shipyard transporter▼

❒Supro Trailer has patented technology on Hydraulic modular trailer which can load 50 tons cargo per axle line. Also we produced the Hydraulic modular trailer against on Nicolas structure, it is for China rockets transportation. Supro technology on Hydraulic modular trailer is leading the international market.
Supro HMT for China rocket transportation▼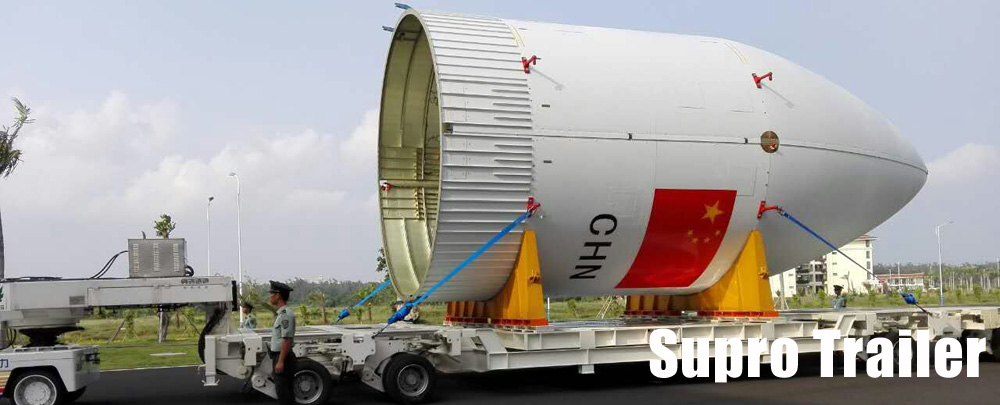 Supro 9 lines Extendable Hydraulic suspension lowloader trailer▼

❒Supro heavy transporters exported to France, Germany, Russian, Italy, American and other Western markets. Cause our transporter can pass the CE testing. Supro provides high quality heavy transporters for whole world!
Supro transporter for France market▼

Vision of Supro Trailer
Supro Provides High Quality and Customized Heavy Transporters to Save Your Money from European Transporter Market!
Supro welcome any customization on the Heavy transporters and provide high quality standard transporters, but the cost only need ½-⅓ of the European brand transporters. That makes you be more aggresive in the projection tenders. So, you only need ⅙working period compare with the European transporter.
High Quality Standard
Guarantee stable quality of the transporter!
High Cost Performance
Achieve your heavy transport dream with little money!
Quick Service
Solve your future worries and set your heart on free!
☑Brilliant Technology Team to Meet Your Wanted Customization.
☑High Quality standard and Stable Working Performance.
☑Good Serivce to Set Your Heart on Free.
☑Good Price to Save Your Money from European Transporter Market.
European & American
South American
Asia
Africa