Windmill Euqipment Transporter
For the windmill equipment transport. Supro Trailer produce "Extendable Flatbed Trailer" and "Windmill Blade Adapter" for wind blade transport.
For the windmill tower transport. Supro traile produce Windmill tower adapter and Extendable tank cargo trailer.
Windmill Tower Adapter
1.1 Windmill tower adapter combine with Hydraulic modular trailer. The adapter could combine with "Nicolas modular trailer", and "Goldhofer modular trailer".


1.2 Supro design an adapter to combine with normal flatbed trailer. And the cost of the whole trailer is more cheaper than Hydraulic modular trailer- Windmill tower adapter.


Windmill Tower Extendable Semi Trailer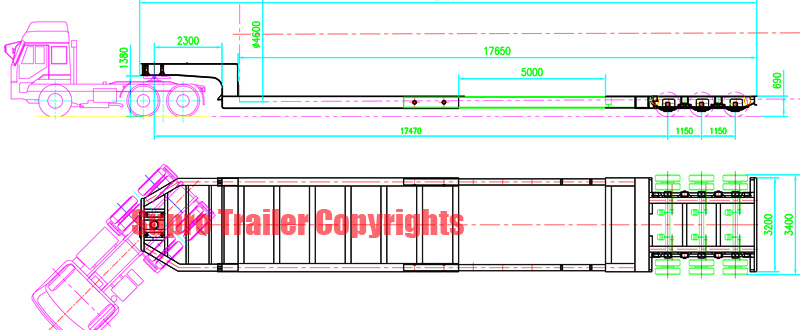 Drawing of the Hydraulic modular trailer with Adapter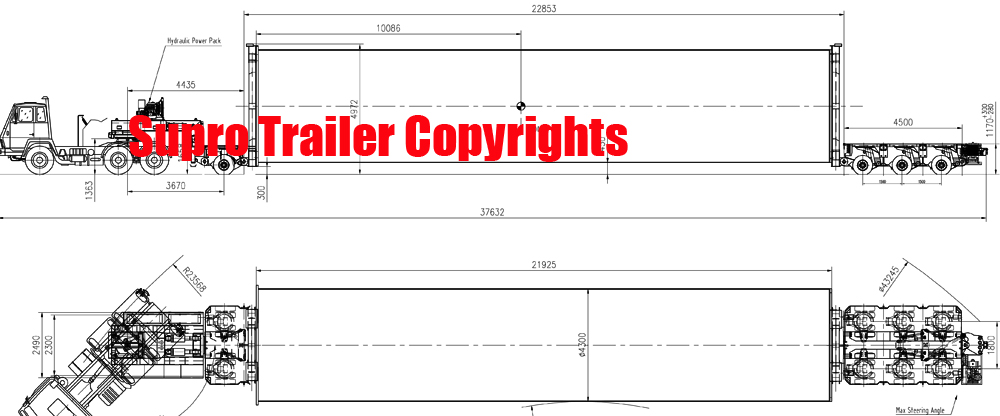 Drawing of Windmill Tower Adapter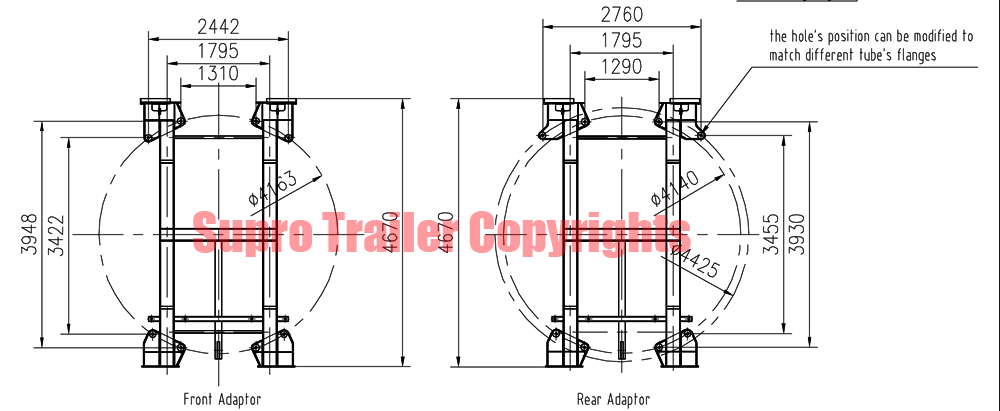 Specifications of the whole trailer
1. Payload at 20km/h-------------------74 tons
2. Axle lines -------------------------------4
3. Axle distance --------------------------1500mm
4. Bogie distance ------------------------580/1760mm
5. Tyre quantity -------------------------16
6. Tyre specification ---------------------215/75R17.5
7. Rim specification ----------------------6.00 (with reinforced rim)
8. Steering system -----------------------Hydro Mechanical steering
9. Suspension -----------------------------Hydraulic suspension with three supports
10. Brake system -------------------------Dual line circuit
11. Loaded speed ------------------------20km/h
12. Platform/Bed height -----------------1090(+220/-280)mm
13. Dead weight --------------------------27000kg
14. Fifth wheel load (Max) ---------------28000kg
15. Axle load -------------------------------20 tons @ 5km/h
16. Max. turn radius ----------------------12410mm inside/ 43245mm outside