Self propelled modular transporter
Gird Carrier/ self propelled modular transporter used for railway precast concrete box girders. Its main features: it can be through the double line tunnel of passenger dedicated line; To feed bridge erect, it can carry erector between operation fields. The girder carrier is tire type, can be split, self propelled, hydraulic drive, convenient for long and short transportation, easy to assembly and disassembly. With the advanced computer technology, the girder carrier can be all-wheel independent steering. Both easy control via remote controller and in carbin.
Heavy duty trailer
Supro Heavy duty trailer can combine with Goldhofer THP/SL hydraulic trailer, Nicolas hydraulic platform.
Advatanges of Supro Trailer.
1.Abundant Experience on Hydraulic modular trailer. We started to produce heavy duty trailer since 1942 year, and we produced the first modular trailer in China. Our modular trailer can combine with Goldhofer THP/SL, Nicolas MDED, Scheuerle, Cometto etc.
2.Advanced technology. Supro Trailer has owned design on modular trailer. The load capacity can reach 50 tons per axle lines. This is much higher than Goldhofer modular trailer.
3.High quality system. Supro trailer can get throught the CE certification of hydrulic trailer. We exported our trailers to Russia, England, France, Germany etc.
4.Professional technician team. Supro egnineers can design some toolings for your modular trailers. Such as spacer, gird bridge, drop deck bed, loading sharing beam, turntable etc.
5.The cost performance of Supro extendable trailer is much higher than Europe companies. Our price is much better, and the quality is good.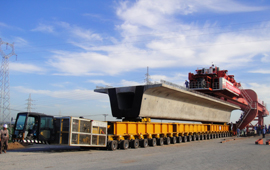 Self propelled modular transporter
Heavy duty trailer/hydraulic platform trailer
Overrail size (Length x Width x Height)-------------43.5x6.6x2.32m
Wheelbase and tread------------------------------------Wheelbase:1.7m, Tread:1.2/4.73m
The minimum turning radius----------------------------Outside:40.5m, Inside:29.8m
The maximum loading capacity-----------------------900t
Tare weight--------------------------------------------------250t
Tire type-------------------------------------------------------12.00-20
Rim type-------------------------------------------------------8.5-20
Axle loading capacity--------------------------------------64t/axle line, 32t/axle, 8t/tire
Planet gear reducer----------------------------------------Model: RRTD3600T 154F5918
The maximum output torque: T2max=16000Nm, Velocity ratio: i=79.2
Drive hydraulic motor---------------------------------------Model: H1-B-080-A,
Output volume:80m3/r, Maximum speed:5550rpm
Hydraulic pump(Closed circuit)--------------------------
4VG250EP4D/32L-NTD10F721DH+A11VL0190LRDS/11L-NSD12K01
Output volume:250cm3/r, Maximum speed:2400rpm
Diesel engine------------------------------------------------Continuous power: 400kw/2100rpm
The maximum torque: 2500Nm/1300rpm 2 sets
Speed and slope--------------------------------------------Speed of full load 0-5km/h
Speed of unload 0-10km/h. The maximum slope of full loaded: longitudinal-5%
Lateral-4%
Braking-------------------- ------------------------------Tha maximum working pressure 35Mpa
Control voltage-----------------------------------------24V
The voltage of winch trolley-------------------------380V
Lighting /air conditioner-----------------------------220V
The capacity of trolley---------------------------------450t
The walking speed of trolley-------------------------0-3m/min
The output force of winch drum---------------------36781kg