1. Stretch trailer, Expandable trailer and telescoping trailer are used for long pipes and wind mill blade transport. The maximum length can arrive at 50m. When the trailer at the closed station, it can be used as low bed trailer. We have three steering modes of the telescoping trailer, one is following the tractor, one is manual operation, and another one is remote control the extendable trailer. The remote control of stretchable trailer has wireless and wired control. Those steering modes are alternative.
Extendable low bed trailer
2. Generally, we use Q460 to be the main material for normal extendable trailer. If you need better quality of the stretch trailer and expendable trailer, we can use Q690 for the main material.
Wind blade trailer adapter
We also have Rotation adapter for wind mill blades transport. The trailer is designed for mountain roads and small turning radius roads specially.
Windmill Power Transporters
And also, we have Tower sectioin Holder for your windmill transport. We could use Goldhofer or Nicolas modular trailer to transport the tower section.
Advatanges of Supro Trailer.
1.Abundant Experience on Hydraulic modular trailer. We started to produce heavy duty trailer since 1942 year, and we produced the first modular trailer in China. Our modular trailer can combine with Goldhofer THP/SL, Nicolas MDED, Scheuerle, Cometto etc.
2.Advanced technology. Supro Trailer has owned design on modular trailer. The load capacity can reach 50 tons per axle lines. This is much higher than Goldhofer modular trailer.
3.High quality system. Supro trailer can get throught the CE certification of hydrulic trailer. We exported our trailers to Russia, England, France, Germany etc.
4.Professional technician team. Supro egnineers can design some toolings for your modular trailers. Such as spacer, gird bridge, drop deck bed, loading sharing beam, turntable etc.
5.The cost performance of Supro extendable trailer is much higher than Europe companies. Our price is much better, and the quality is good.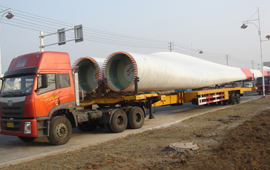 China Extendable Low bed trailer
Drawing of Strethable trailer and extendable trailer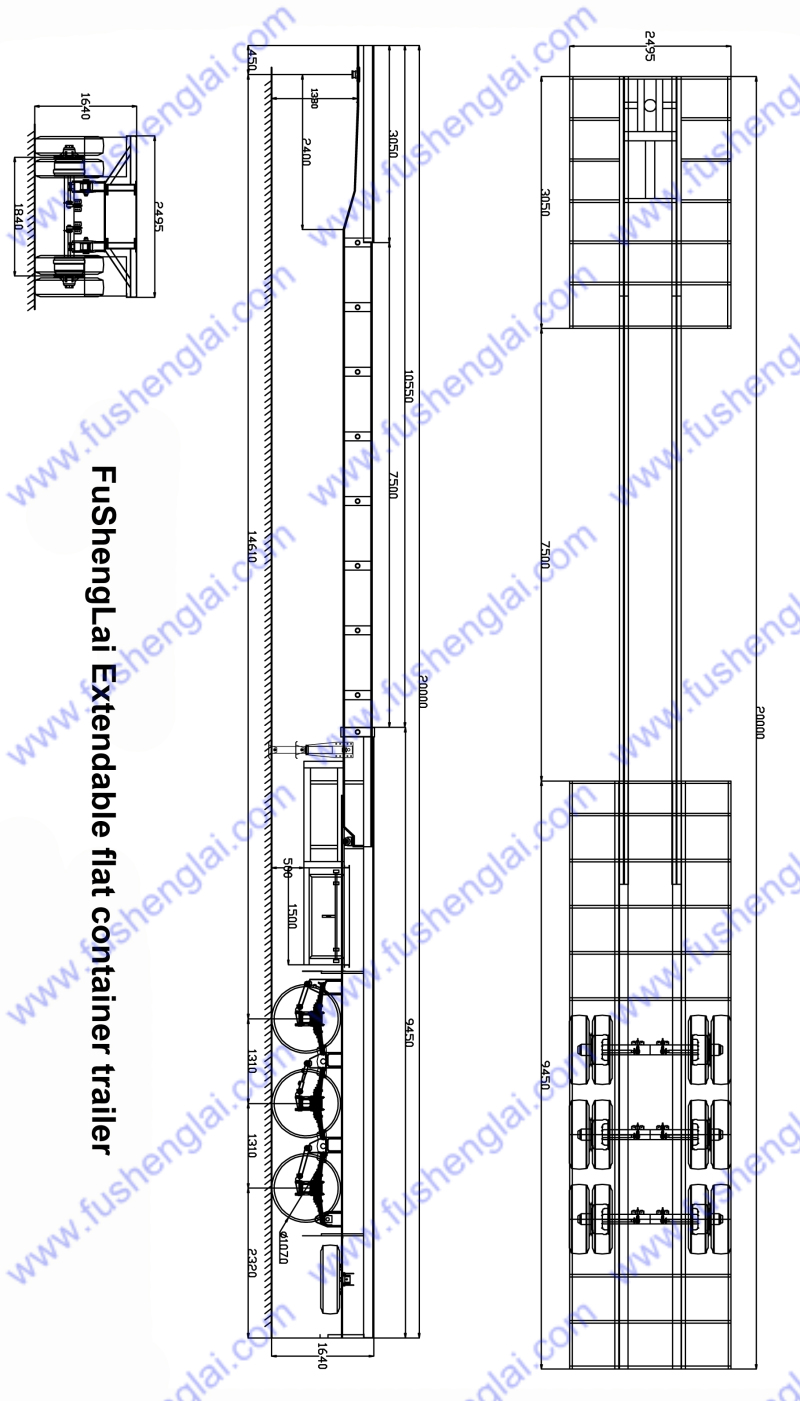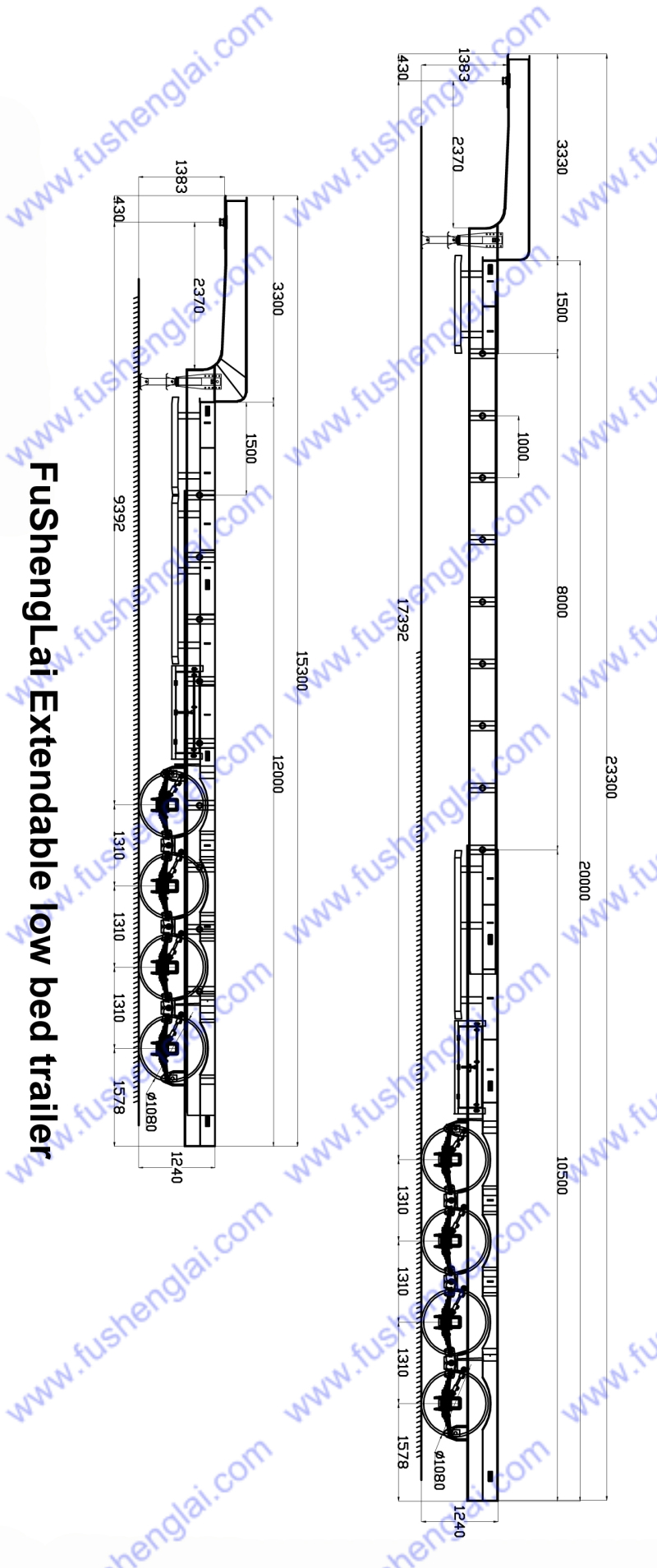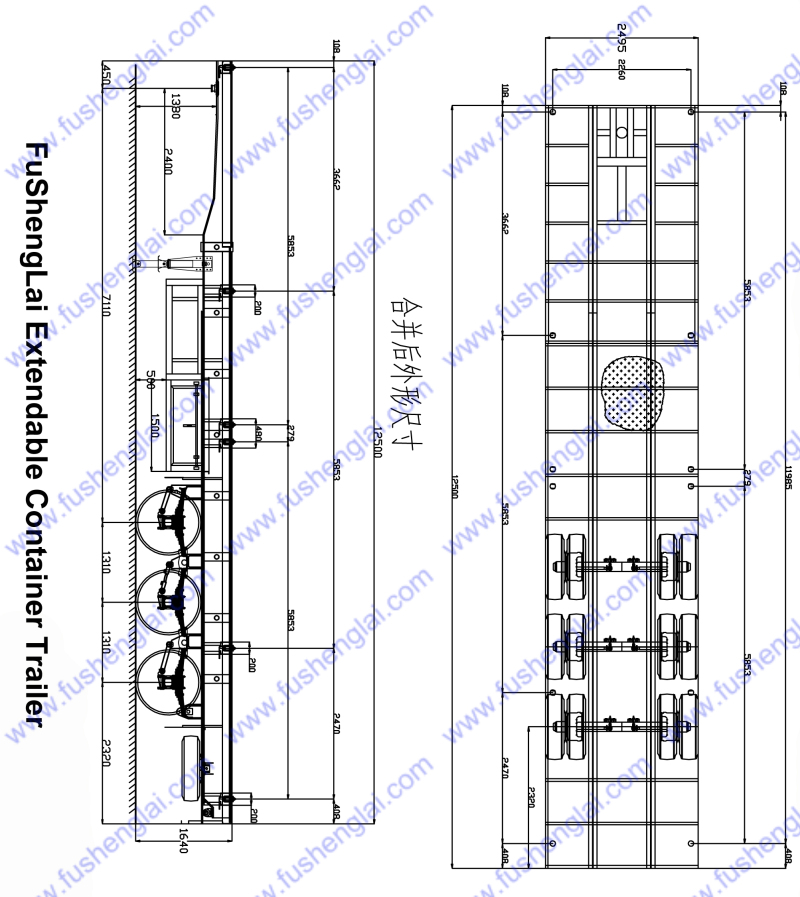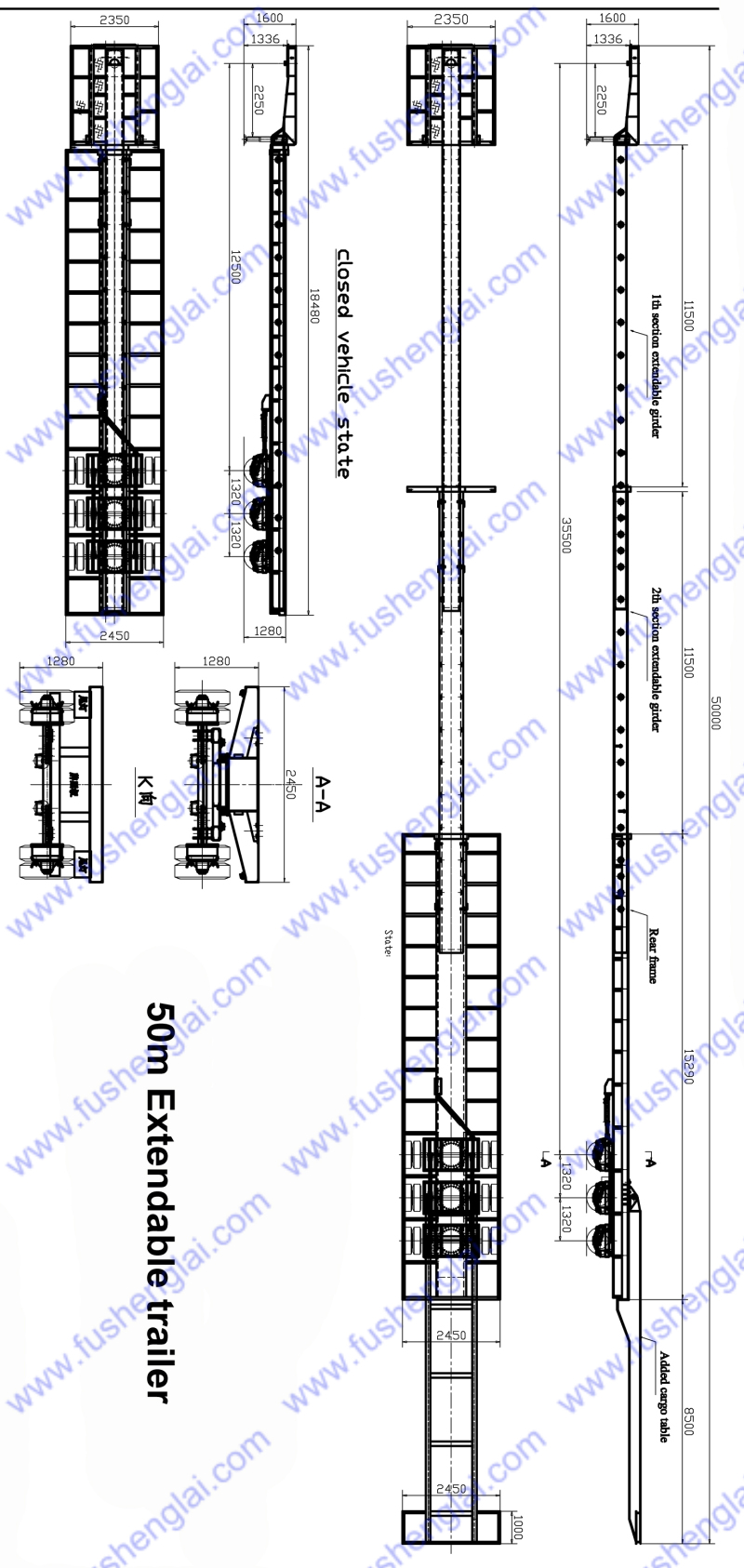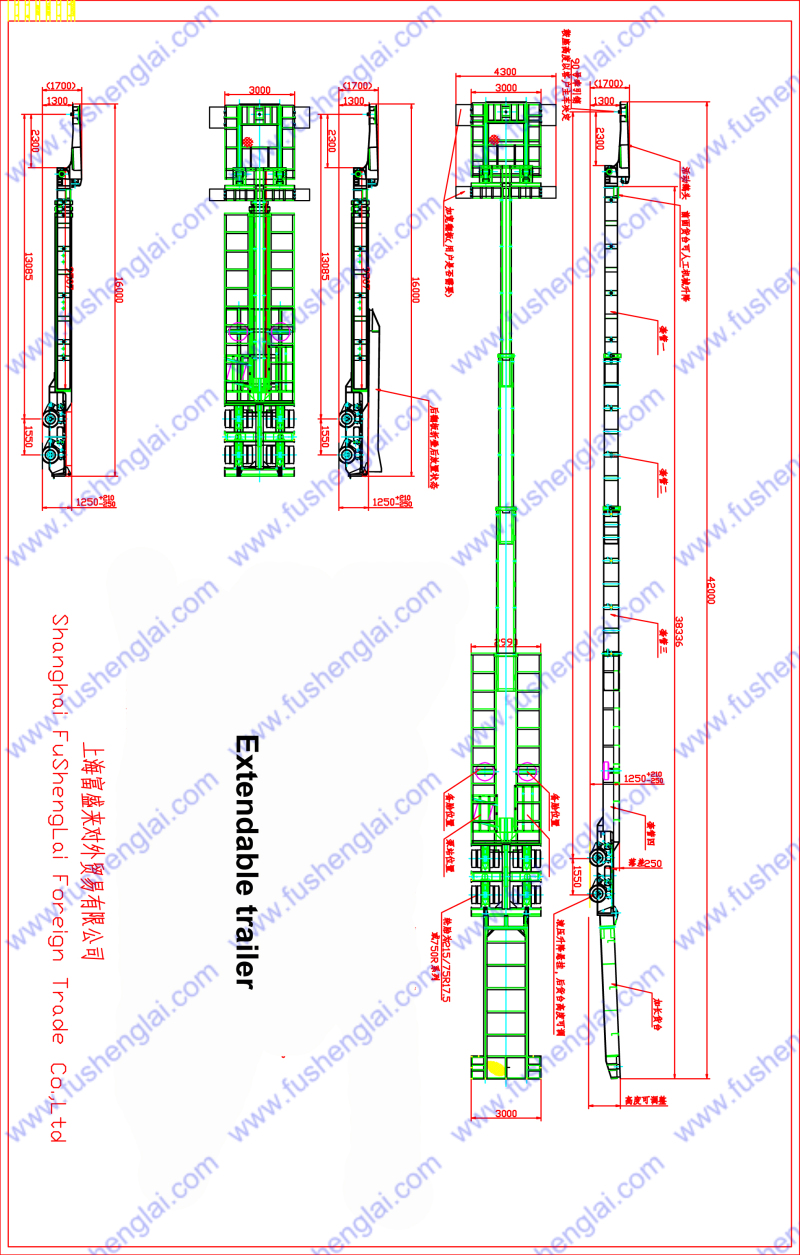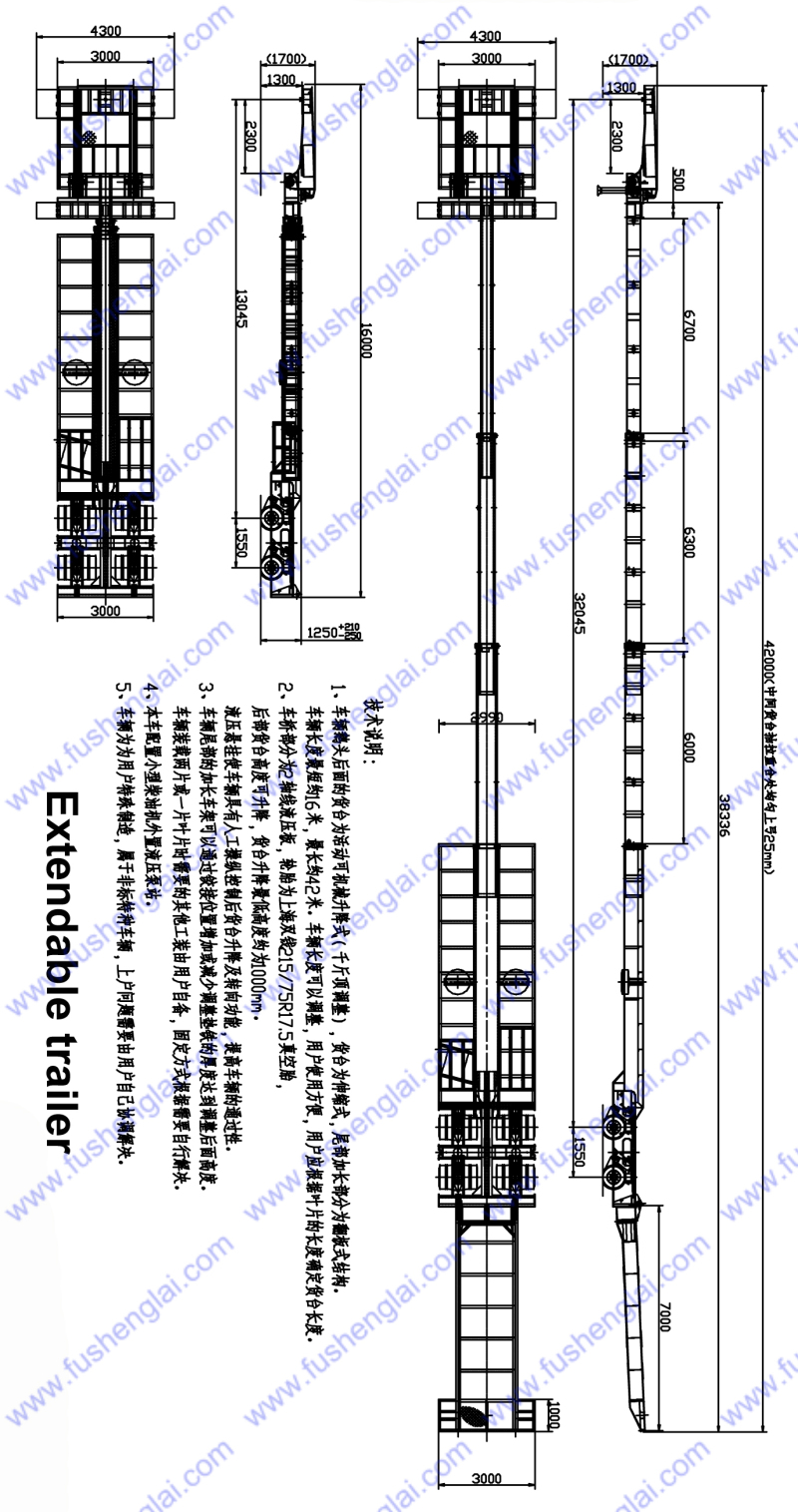 48m Expandable trailer configuration
1.1 The structure of stretch trailer and expandable trailer:
The stretch trailer be used for wind mill bladers transportation, total length could reach 48m.The added cargo table could be dismantled, length 7.5m.
1.2 Have 3 independent axle-lines. Hydro-cylinder control ( Manual directional valve control) steering, equipped outer small diesel engine pump station. 16T level axle-line. 825R16 type. A couple of 28T level landing legs.
1.3 The shortest combination length is 17m, maximum length is 48m. The length of expandable trailer can be customized.
1.4The extendable trailer equipped small diesel engine external hydraulic pump station. Can load 60 tons in closed state.
Above configurations could be customized.
2.Dimensions (length X width X height) (mm)..........17000X3000X1600
3.Gooseneck (fifth round) Load weight (Kg).............15000
4.Maximum total weight (Kg).....................................78500
5.Curb weight (kg).......................................................18500
6.Rated (maximum) load mass (kg).............................60000
7.Axle rated (maximum) load mass (kg)...........16000kg/per(Fuwa brand)
8.King pin size..............................................................90#
9.Full load rating (maximum) speed (km / h).............25km/h
10.Bearing base (mm)...................................................1320
11.Wheel base (mm)......................................................2400
12.Tire size....................................................8.25R16(Double coin brand)
13.Rim size.....................................................................6.5-16
14.Amount of tires..........................................................12
15.Auxiliary support.......................................................A couple of 28T
16.Main beam material....................................................WH60/Q460/Q690
17.Auxiliary materials......................................................Q345/Q460
18.Diesel pump station............WUXI WORLDBEST KAMA POWER CO., LTD/Mode-KM178FS/Power-3.68-4KM